Drink Menu
American Classic Cocktails
Beer
Mmmm... Beer!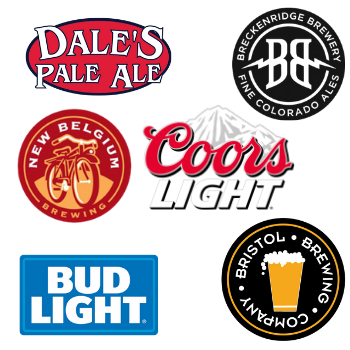 Currently, we have 10 beers available on tap. Stop by Mose Public House in Cañon City, Colorado to see our latest selection of beers on tap! 
Premium Beers On Tap - $5.00
VOODOO RANGER
Bursting with tropical aromas and juicy fruit flavors from Mosaic and Amarillo hops, this golden IPA is perfectly bitter with a refreshing, sublime finish.
VOODOO RANGER JUICY HAZE IPA
Packed with bright tropical aromas and brilliant citrusy flavors, this hazy IPA wraps up with a pleasantly smooth finish.
SAMUEL ADAMS WINTER LAGER
For the first time in 31 years, they're updating the classic Winter Lager recipe to make it crisper and brighter. It's the same iconic beer, with a wintery remix.
DALE'S PALE ALE
Brewed with hefty amounts of European malts and four kinds of American hops, it delivers a blast of hop aromas, a rich middle of malt and hops, and a thrilling finish.
FAT TIRE
Fat Tire Amber Ale is a Red Ale - American Amber / Red style beer brewed by New Belgium Brewing Company in Fort Collins, Colorado
COMPASS IPA
This is an ale with zip. Our india pale ale brings together copious amounts of Columbus, Chinook, and Cascade hops in a tasty combination that lingers through the finish and beyond. Compass delivers big hop flavor with malt in a nice supporting role.
BEEHIVE
Definitely sunshine in a glass from Bristol Brewing Company in Colorado. Beehive is a joy to drink, with its beautiful honey-gold color and refreshing, full-flavored body.
VANILLA PORTER
Real vanilla beans from Madagascar combined with caramel and Munich malts create a beer that's balanced and flavorful. From Breckenridge Brewery in Colorado
Domestic Beers On Tap - $4.00
BUD LIGHT
Introduced nationally in 1982, Bud Light is brewed with a malt and hops ratio different from Budweiser for a distinctively crisp taste with fewer calories.
COORS LIGHT
A premium light beer with 105 calories per 12-ounce serving.
All beers subject to availability
Come Relax
At Mose Public House
Established by lifelong bartenders, Mose Public House in Cañon City, Colorado aims to be a comfortable, upscale dive bar where everyone can feel comfortable popping in for a drink with friends. Our skilled bartenders sling the best American Classic Cocktails in Fremont County. Whether you like a glass of red wine, or a cocktail from the prohibition days, Mose Public House has got you covered. So come in, have a seat and let the fun begin.
MON
11:00 am to 12:00 am Happy Hour 3-6 PM
TUE
11:00 am to 12:00 am Happy Hour 3-6 PM
WED
11:00 am to 12:00 am Happy Hour 3-6 PM
THU
11:00 am to 12:00 am Happy Hour 3-6 PM
FRI
11:00 am to 12:00 am Happy Hour 3-6 PM
Mose Public House is an "Upscale Dive Bar." It features many Colorado distillates. The featured mixed drinks are so fun! "Bee's Knees" is the drink I want to try next visit! This delightful addition is located in the heart of Canon City's Downtown Historical District. The decor is full of historical photos, the bar itself being a restored relic. The pool tables are clean, balanced & beautifully kept. It is named for a bear that terrorized the area at the turn of the century. Friendly, no-nonsense, skilled bartenders deliver AMAZING drinks! Full pours wine & beer, generous spirits in their mixed drinks, too! This place has it all. I highly recommend it.
This is a very nice clean bar. The owners are absolutely wonderful we love Mose!
Hands down the best bar in town!
Want to know what's happening at Mose Public House?
Give us a shout or come down and see us!