Mose Public House
Your Neighborhood Upscale Dive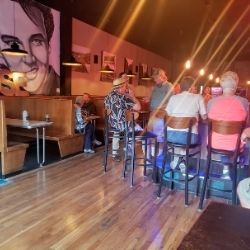 Welcome to Mose Public House - your newest spot in Cañon City, Colorado to kick back with friends, shoot a game of pool and sip a mixed - to - perfection, American classic cocktail. Our warm atmosphere makes Mose Public House the perfect place to meet up with old pals, have a drink after work, or just pop in to try one of our specialty beverages. Our skilled bartenders can whip up American classic cocktails at the drop of a hat: Manhattans, Gimlets, Martinis, Old Fashioneds - and many more of your favorite classics. 
But we don't just serve up Fremont County's favorite cocktails. We also have nightly drink specials, domestic and imported beer, and wine. The best part about all these tasty drinks? The prices! We want you to be able to hang out and have a few - not have to cut the night short because you broke the bank. If you can't find at least one beverage we serve that you're excited about, then you need to get your taster checked!
Our space is warm and inviting and makes the perfect place to hold an after hours meeting with coworkers and friends. Our spacious bar, roomy booths and expansive rooms make Mose Public House a comfortable place where everyone is welcome.
At Mose Public House, we pride ourselves on making drinks the right way - no unknown additives, nothing too over the top - just the time - honored ingredients you know and love. You never have to wonder what exactly is in your cocktail here. It's always fresh, and it's always classic. 
So, look no further for the newest local Canon City gathering place - Mose Public House is it. 
Come Relax
At Mose Public House
Established by lifelong bartenders, Mose Public House in Cañon City, Colorado aims to be a comfortable, upscale dive bar where everyone can feel comfortable popping in for a drink with friends. Our skilled bartenders sling the best American Classic Cocktails in Fremont County. Whether you like a glass of red wine, or a cocktail from the prohibition days, Mose Public House has got you covered. So come in, have a seat and let the fun begin.
MON
11:00 am to 12:00 am Happy Hour 3-6 PM
TUE
11:00 am to 12:00 am Happy Hour 3-6 PM
WED
11:00 am to 12:00 am Happy Hour 3-6 PM
THU
11:00 am to 12:00 am Happy Hour 3-6 PM
FRI
11:00 am to 12:00 am Happy Hour 3-6 PM
Hands down the best bar in town!
Mose Public House is an "Upscale Dive Bar." It features many Colorado distillates. The featured mixed drinks are so fun! "Bee's Knees" is the drink I want to try next visit! This delightful addition is located in the heart of Canon City's Downtown Historical District. The decor is full of historical photos, the bar itself being a restored relic. The pool tables are clean, balanced & beautifully kept. It is named for a bear that terrorized the area at the turn of the century. Friendly, no-nonsense, skilled bartenders deliver AMAZING drinks! Full pours wine & beer, generous spirits in their mixed drinks, too! This place has it all. I highly recommend it.
This is a very nice clean bar. The owners are absolutely wonderful we love Mose!
Want to know what's happening at Mose Public House?
Give us a shout or come down and see us!