About Us
American Classic Cocktails
Mose Public House
Our Story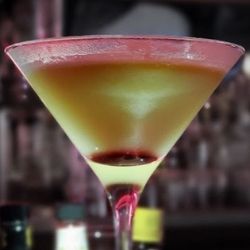 Established by lifelong bartenders, Mose Public House has been a dream since their first day behind the bar over 25 years ago. At Mose Public House, our aim is to be an upscale dive where everyone can feel comfortable enjoying a drink. A place on Main Street where Cañon City locals can get together, exchange stories, and share a beverage. 
At Mose Public House, we want to honor the tradition of the American Classic Cocktail by mixing up the finest drinks in an atmosphere that feels cozy and pleasant. The building that houses Mose was built in 1898 and it started off at the first Post Office in Cañon City. With original details throughout the space, stepping into Mose Public House can feel like stepping back in time. Harkening back to times gone by, pulling up a seat at the vintage bar can transport you to an era of a ritzy bars and fancy cocktails. 
Our goal is to make sure you have a good time. We want Mose Public House to give the people of Fremont County a way to relax and enjoy themselves. 
We believe in classic cocktails. We believe in fast, friendly service. We believe that making a perfectly mixed cocktail doesn't have to be complicated. We believe in a space where Fremont County locals can come together to decompress and talk about their day. We believe that Mose Public House will be your new favorite place to be in Cañon City, Colorado.
The Story Of Old Mose
A Massive Grizzly That Did What He Wanted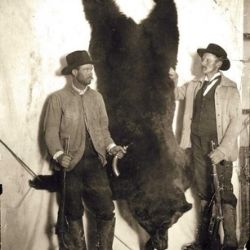 Colorado legend, Old Mose was a behemoth grizzly bear that terrorized Fremont County from the 1880s until his death in 1904. During his murdering spree, legend says he was responsible for the death of at least 800 cattle and possibly 5 men. 
The legend of Old Mose begins in 1883 when hunter Jacob Radcliff became the first unlucky victim of Old Mose. Radcliff was hunting deer and elk on Black Mountain when he stumbled upon bear prints. Being that Radcliff wasn't on the hunt for a bear, he ignored the prints and continued on. Shortly after, when Radcliff came to a meadow, the massive Mose rushed him. Radcliff fired off one shot, but the bear, undeterred, maimed and brutally killed Jacob Radcliff. There is some dispute on whether or not the bear that killed Radcliff was, in fact, Old Mose, or another bear entirely. Regardless, the legend of the ferocious grizzly of Black Mountain was born. 
Allegedly weighing in at over 1100 pounds, Old Mose continued his reign of terror over the years by slaughtering hundreds of livestock and continuously evading capture. Though many bears attack the easiest target in a group of cows, Old Mose had no trouble taking down adult bulls. Some reports say that Old Mose was responsible for a loss of at least $500 per rancher in the Park and Fremont counties in the early 1900s. And Mose didn't just stay in one place. James E. Perkins, author of Old Mose, says that he got his nickname because though he covered a lot of ground, he seemed to "mosey around" with no home base. 
Enter Wharton Pigg, a man who was determined to take down Old Mose. As soon as he heard about the bear, he took off with his rifle to look for the beast. After a few years of searching, Old Mose continued to evade capture. Then, in 1898, Pigg cleverly placed a trap underwater at a pond Mose was known to frequent. A few weeks later, when a young boy went to check the trap, there was Old Mose, trying as hard as he could to wiggle free. But hours later when Pigg and other men went to kill Mose at the trap, he had vanished. All that was left in the trap were two bloody toes that Mose had chewed off to get himself free. 
For years after the trap incident, Pigg continued to track Mose, a little easier now thanks to his distinctive new paw print. In 1904 a prolific bear and lion mountain hunter, James Anthony, came to take a stab at the legendary grizzly. Pigg and Anthony decided to team up to put an end to Old Mose's warpath. The men brought along dogs for their hunt, who picked up the scent of a bear and quickly surrounded the gargantuan beast.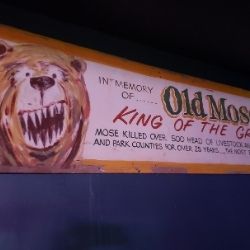 Old Mose was unfazed by the dogs and this gave Anthony the chance to fire off a shot. It hit Mose in the throat but still didn't take the massive bear down. As Mose charged Anthony, he fired multiple shots and continued missing until one hit Mose in the spine. While Pigg didn't get to fire the kill shot to take down his nemesis, he did get to see him fall. 
While there are disputes as to whether the bear that was killed was the same bear who terrorized livestock and people alike, what remains true is that the men claimed a massive grizzly who was responsible for at least some of the killings. 
While not every detail of Old Mose's storied "life on the run" is accurate, it sure makes for one of Colorado's most exciting tall tales. 
The Best Drinks In Cañon City, Colorado
At Mose Public House
Established by lifelong bartenders, Mose Public House in Cañon City, Colorado aims to be a comfortable, upscale dive bar where everyone can feel comfortable popping in for a drink with friends. Our skilled bartenders sling the best American Classic Cocktails in Fremont County. Whether you like a glass of red wine, or a cocktail from the prohibition days, Mose Public House has got you covered. So come in, have a seat and let the fun begin.
With a staff of highly experienced bartenders and a bar stocked with the finest ingredients, Mose Public House is your new favorite bar in Canon City, Colorado. We sling all the American Classic Cocktails: Manhattans, Martinis, Gimlets, Old Fashioneds, Sidecars, Sours - and so many more. We have cold beer on tap and a selection of delicious wines. When you step into Mose Public House, you know you are going to be served Fremont County's best cocktails. So come in, have a seat, and get ready to enjoy yourself. 
Want to know what's happening at Mose Public House?
Give us a shout or come down and see us!